What is Coffeebot?
Coffeebot is an online series of short animations released every other Friday at noon. Every month we publish two short animations and two video blogs. Coffeebot is an unconventional "bromantic comedy" that follows recent college graduate, Glenn, and his coffee machine robot, Coffeebot. The theme of the series is driven by Coffeebot's want to please his owner, Glenn, usually through coffee. Though Coffeebot only means well, the situations created by his actions can be problematic.
Who's making this?
Coffeebot is created by Coffeebot Studios, LLC. Coffeebot Studios is a 3D animation studio based in Philadelphia, PA. The four founders started the studio since Philadelphia is lacking an animation scene (and they love to animate). The founders are Eric Martin, Ross Reagan, Ian Suen, and Chelsea Myers. The Coffeebot series was just an idea Eric picked up years ago, and always stuck with him. After the team got together, they knew they wanted to pursue the Coffeebot series.
Who We Are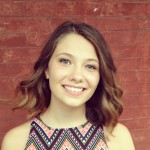 Chelsea
In Philadelphia, look for Chelsea on an orange scooter or in line for a food truck. Chelsea has many passions, but her main love is web development. Other loves include brownies, the Flash, and puppies.  Chelsea is pursuing a master's degree in digital media when she is not managing Coffeebot Online, working at Happy Cog, or watching Netflix.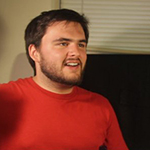 Ross
Whether it was making Lego films, building clay characters, or acting out stories, Ross has always been hooked on the idea of animation. Now that he's graduated with the rest of Team Coffeebot, he's looking forward to taking on the entertainment world. In his spare time (or lack thereof), Ross likes finding new beers, expanding his bottle collection, coming up with new ideas for shows, and playing video games.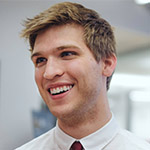 Eric
If Eric's 10 year old self could see what he's doing now, he would be ecstatic.  Creating comics and cartoons ever since middle school, Eric found that Coffeebot was the perfect outlet to continue his passion. When not animating, Eric likes to browse the local comic shop or out feed his insatiable sweet tooth… Seriously, it's a problem.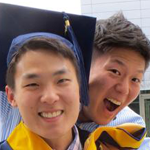 Ian
Ian is animating for Coffeebot by day, doing other stuff by night. However once you get to know him, you'll find out even more average things about him. For example, he cleans dishes with a sponge, wears shirts in public, is a ninja, and likes to play video games. He is also an amateur chef, either increasing his cooking skills or his resistance to under-cooked foods.
Special Thanks to…
Troy Finamore
Jeremy Fernsler
Matt Kaufhold
Jamar Nicholas
Bill Fennelly
Dave Mauriello
Jervis Thompson
Michael Wagner
Takisha Mundy